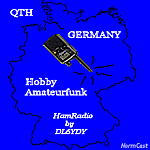 Mein Amateurfunkpodcast brachte es auf lediglich 12 Folgen im Zeitraum von 2005-2008. Er erschien selten, alle Folgen zusammen ergeben eine Nettospielzeit von knapp 11 Stunden. Die Recherchen waren meistens umfangreich, der Aufwand wuchs von Folge zu Folge. Das Ganze war in der Zielgruppe der Funkamateure sehr beliebt und wurde das ein- oder andere Mal auch in den zugehoerigen Printmedien und Funkrundspruechen erwaehnt. Doch zu der Zeit hatten hier viele andere Dinge und Projekte Vorrang, wodurch die Sendung zumindest in punkto Quantitaet litt, was zu ihrer Einstellung im August 2008 fuehrte. Dennoch wies sie danach noch ueber einen recht langen Zeitraum beachtenswerte Downloadzahlen auf, was erfreute, aber auch verwunderte.

Mittlerweile sind die darin behandelten Themen groesstenteils eigentlich nur noch "alte Huete" und nicht mehr relevant, aber, ich habe die Folgen dennoch vom alten Podcast-Provider Podhost "heruebergerettet" und stelle sie nun via NormCast.de quasi als "Audio-Denkmal" innerhalb der folgenden Liste weiterhin dauerhaft zur Verfuegung. Vy 73!
QTH Germany – Hobby Amateurfunk Folge 1 / August 2005
Schmutztechnologie, ein Astronautenanzug, ein Jahr-2000-Oldie, ein Midi-Blues, die DNAT, ein QSO mit Heinz, die "CQ-Serenade", musikalischer Relaisfunk und Erfahrungen mit dem Yaesu FT-847
QTH Germany – Hobby Amateurfunk Folge 2 / September 2005
Anti-Elektrosmog-Webseite ad absurdum, 6m-Lizenz-Lotto, akustische Einblicke in einen OV-Abend, ein SSTV-Experiment und ein Kenwood TS 2000 via eBay.
QTH Germany – Hobby Amateurfunk Folge 3 / November 2005
CQ-Serenade auf franzoesisch, alte Stationskennungen, ein Relais-QSO, Amateurfunk auch mit Linux, Fuchsjagden vs. Funksignalsuchfahrten, the morse code of love, Ex-Koenig Hussein von Jordanien im QSO mit dem Space Shuttle und ein spaciges Funkprojekt eines Gymnasiums.
QTH Germany – Hobby Amateurfunk Folge 4 / Januar 2006
Eine etwas improvisierte Ausgabe in der ein alter Bekannter wieder auftaucht: Heribert, DO7HSG. Die Themen Skype vs. Funk, ein TNC mit USB, eine alte Hoerspielreihe und ein paar Neuigkeiten runden das Ganze ab.
QTH Germany – Hobby Amateurfunk Folge 5 / Maerz 2006
Zunaechst gibt es Zuhoererreaktionen und gleich danach einen ausgiebigen Bericht von einer bemerkenswerten Veranstaltung. Ein Gymnasium in Lippstadt hat im Rahmen einer gelungenen Praesentation ein Funkgespraech mit der Internationalen Raumstation ISS realisiert. Fernsehen und Radio waren dabei ebenfalls zugegen. Zuvor hat es knapp ein Jahr gedauert, bis dass diese Sache ueberhaupt realisiert werden konnte. Die Schueler und Schuelerinnen mussten die Amateurfunkpruefung bestehen und die meisten Hilfsmittel fuer ihr Experiment selbst erforschen, beschaffen und erstellen. Dieser QTH Germany ist dieser tollen Aktion gewidmet und bis heute meine Lieblingsfolge dieser Serie.
QTH Germany – Hobby Amateurfunk Folge 6 / Mai 2006
Eine Nachlese mit Ralf Karrasch (DF4DC) zum Thema "Evangelisches Gymnasium Lippstadt vs. ISS" aus dem letzten Podcast. Desweiteren gibt es ein Gespraech mit Andreas (DG2MAS), aufgenommen im "Vapiano" in Muenchen waehrend des Podcastkongresses im April 2006. Auch wurden wieder Morsezeichen in Musikstuecken entdeckt, man aergert sich ueber "PLC-Beilagen" in AFU-Zeitschriften, freut sich ueber einen 6m-Zugang und findet eine Software, die es ermoeglicht, via CW im Internet zu kommunizieren.
QTH Germany – Hobby Amateurfunk Folge 7 / August 2006
Erfahrungen im 6m-Band, ATV-Amateurfunkfernsehen, Flotte Sprueche auf Kanal 9, Marconi historisch und Amateurfunk im Alter.
QTH Germany – Hobby Amateurfunk Folge 8 / Dezember 2006
Warum QSL-Manager?; Funkbetrieb waehrend der Fussball-WM; Blitzschutz; Amateurfunkpeilen; Oeffentlichkeitsarbeit im Alleingang; die Zukunft des Amateurfunks; jede Menge Feedback und so manches mehr.
QTH Germany – Hobby Amateurfunk Folge 9 / April 2007
Ein Selbstbau-Transceiver in Theorie und Praxis, eine DXpedition nach Norwegen, High-Speed-CW, Zuhoererpost, Morsecode im Actionfilm, Amateurfunkmusik und mehr.
QTH Germany – Hobby Amateurfunk Folge 10 / September 2007
Amateurfunk allgemein, ein Bummel ueber die HAM RADIO inklusive Nachlese, Satellitenfunk, eine Hoererzeitschrift fuer blinde Funkamateure, ein Empfangsmeister, der Funkamateur Wolfgang Rudolph vom Computerclub (2) im Gespraech und der Tag der offenen Tuer beim DARC.
QTH Germany – Hobby Amateurfunk Folge 11 / April 2008
Lustige Kurzwellenfunker, Maritim-Mobile Funkaktivitaeten, CQ Contest, DXPedition zur Insel Fehmarn, Internationale Amateurfunksendungen, CB-Funk 2.0 und Feedback
QTH Germany – Hobby Amateurfunk Folge 12 / September 2008
Neuigkeiten auf 80m, Erfahrungen mit dem Kenwood TS-2000, Wohlklang durch ESSB, hinter den Kulissen der CQ DL, mittendrin bei einer Fuchsjagd und Oeffentlichkeitsarbeit in freier Natur.