Don't Download This Song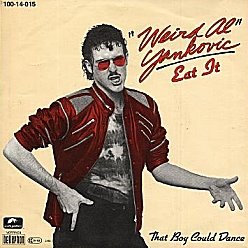 "Eat it – eat it, if it`s gettin` cold – reheat it!" So parodierte "Weird Al" Yankovic im Jahre 1984 das Lied "Beat it" von Michael Jackson. Auch Madonna musste dran glauben, denn aus "Like a virgin" machte Yankovic eiskalt "Like a surgeon". Aus Cyndi Lauper`s "Girls just wanna have fun" wurde "Girls just wanna have lunch" und Steven Tyler von Aerosmith wird sich ueber das "Livin` in the fridge" (original: "Livin`on the edge") gewundert haben.
Nun ist Yankovic wieder da und nimmt gleich die derzeitige Sachlage in punkto Musikdownloads auf`s Korn. Und das geht natuerlich am besten mit einer herunterladbaren MP3-Datei. Die heisst wiederum "Don`t download this song" und hoert sich (hoechstwahrscheinlich mit voller Absicht) aehnlich an wie das alte "We are the world" der "USA For Africa". Trotzdem witzig….