Spanish Influences
English Version below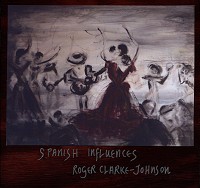 "Spanische Einfluesse" ist der uebersetzte Name dieses CD-Albums, welches von Roger Clarke-Johnson komplett in Eigenregie aufgenommen worden ist. Es beinhaltet 19 verschiedene Lieder, allesamt gespielt mit – spanischen Einfluessen. Diese Songs haben Roger schon ueber Jahrzehnte begleitet und nun ist es Zeit, sie in spezieller Art und Weise zu ehren.
"Die spanische Gitarre ist etwas Einzigartiges. Auf keinem anderen Instrument spielst Du (soweit ich weiss) mehreres, voellig Unterschiedliches mit den Fingern einer einzigen Hand."
(Roger Clarke-Johnson)
Diese CD ist wirklich etwas Spezielles. Nahezu alles daran ist -bis jetzt- handgemacht. Das Covermotiv wurde von Roger`s Tochter Claudine gemalt und der Auftaktsong der CD ("Homage To Francisco") ist eine Eigenkomposition.
Roger ist ein richtiger "Holzwurm". Er steht morgens sehr frueh auf, um die Holz-Cover in kompletter Handarbeit zu erstellen und zu beschriften. Fuer ihn ist es die beste und ruhigste Zeit des Tages, sagt er. Die CDs selbst werden einzeln signiert und so langsam wie moeglich gebrannt, um hoechste Kompatibilitaet zu garantieren. Zudem wurden hochwertige Rohlinge als Vorlagen gewaehlt, die wie Vinyl-Schallplatten aussehen.
Roger arbeitet gerne und viel mit Holz, sogar einen voellig funktionsfaehigen Plattenspieler hat er schon komplett aus Holz gebaut. Da lag es nahe, diese Passion auch auf dieses Projekt auszudehnen…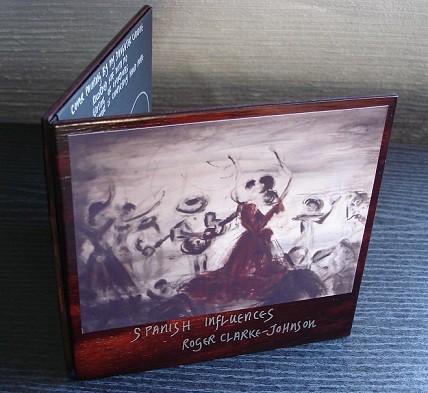 Die durchweg digitalen Aufnahmen (DDD) entstanden lediglich mit zwei unterschiedlich positionierten Mikrophonen in einem Raum mit spezieller Akustik. Die Aufstellung der Mikrophone wurde absichtlich oftmals variiert, so dass sich der letztendliche Klang von einem zum naechsten Stueck signifikant aenderte und somit jedem Song eine individuelle Akustik verleiht.
Das letztendliche Mastering wurde in eher traditioneller, die Dynamik einer CD ausnutzender Art und Weise getaetigt. Dabei wurden (ton-)technische Theorien und Gesetze gerne mal ignoriert und mehr Wert darauf gelegt, dass die CD insgesamt vor allem in punkto Lautstaerke homogen klingt.
Hier ein Ausschnitt aus dem "NormCast" Nr.129 als Gratis-MP3. Roger spielt darin live und erzaehlt etwas ueber diese Arbeit. Download!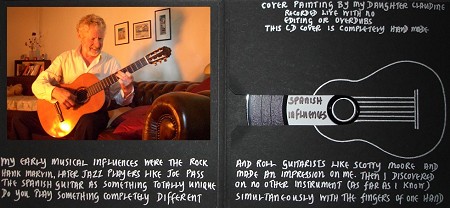 "Spanish Influences" is the name of a self-recorded CD-album by Roger Clarke-Johnson which consists of 19 acoustic guitar tracks played with – Spanish Influences. These songs have been accompanying him for decades and now it`s time to honour them in a very special way…
"The Spanish Guitar is something unique. On no other instrument (as far as I know) do you play something completely different simultaneously with the fingers of one hand". (Roger Clarke Johnson)
This CD is something special as -so far- nearly everything is truly handmade. The front cover picture was done by Roger`s daughter Claudine and the album`s opening track ("Homage To Francisco") is Roger`s own composition.
Roger gets up very early in the mornings to work on the wooden covers because he thinks that this is the best part of the day for doing these things. These HQ-CDs are signed individually and burned as slow as possible to guarantee a high compatibility rate (and they also look like vinyl-records!).
Roger likes to work with wood. One of the results is a fully-functional record-player he did on his own – completely made of wood. And so we thought that this might be a good idea for this CD as well. There`s a special wooden jewel case edition available which looks very nice. Everything is also completely handmade including the handwritten tracklist on the backside.
All these (DDD-) recordings have been done with two external microphones only. The position of these microphones within only one room providing special acoustics have been intentionally changed which resulted in indivdual ambience for each track.
The mastering itself therefore has been done in a more traditional way using the dynamic range a CD offers. Theories concerning soundmastering have sometimes been gladly and intentionally ignored in order to be able to put more positive emphasis on a homogeneous appearance in volume.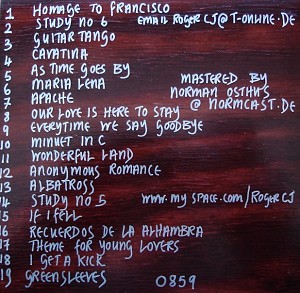 Here`s an excerpt from the "NormCast"-Podcast No.129 including Roger playing live in the studio and talking about this work. It starts in German but inbetween there`s enough English, too :)