Live long and prosper!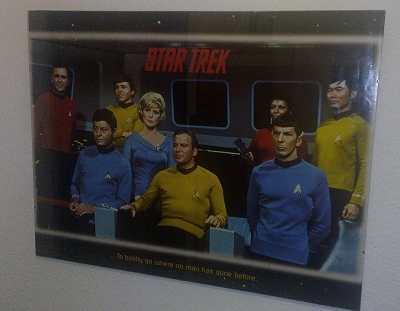 Ein Gruppenbild der originalen Crew des Raumschiffes Enterprise, hier im Flur haengend, stimmt mittlerweile auch mal traurig, denn viele der darauf zu sehenden Menschen und Charaktere sind nicht mehr da…
Heute ist "Blue-Shirt-Day", denn Leonard Nimoy alias Mr. Spock ist im Alter von 83 Jahren leider einer schweren Krankheit erlegen.
Die Serie hat mich geprägt und begleitet – und Mr. Spock war ein grosser Teil davon!
Vor wenigen Tagen twitterte er noch folgendes:

…als ob er's gewusst haette…
Thank you, Mr. Nimoy, for all these uncountable hours of joy and excitement "in space". May you live long and prosper up there!
Rest in peace – Mr. Spock! You have been and always shall be – a friend!
LLAP