Never Mind The Rechtsstaat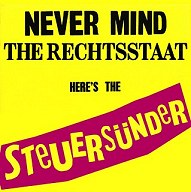 "Wer 2,5 Millionen Euro für eine CD bezahlt, darf ja wohl ein anspruchsvolles Cover erwarten."
Eben. Und deswegen hat die "Welt" einige bekannte Kuenstler um ein jeweils adaequates Artwork gebeten. Als Beispiel hier das Werk von Dirk Rudolph (Rammstein / Element Of Crime), der das legendaere "Never Mind The Bollocks" – Cover der "Sex Pistols" als Vorlage nahm.
Die weiteren Ergebnisse sind hier zu sehen, sie sind erstaunlich und amuesant zugleich. Wenn doch nur der Anlass nicht so ein trauriger waere…